The World's Easiest Approach to Social Media Advertising.
Powered by Artificial Intelligence. Stiddle is able to outperform ad agencies for a fraction of their price. Using your favorite platforms!


Simply enter your business name
and Stiddle will create and target your perfect ad. All done for you!
See how Stiddle can help your

Local Retail
Restaurant
Beauty

Health Care

Real Estate
Automotive
E-commerce
Agenices
It's simple! Follow the 4 step process
and have beautifully targeted ad campaigns in under 5 minutes.
Target the perfect audience who will buy
Our AI customer selection eliminates assumptions & biases when choosing your target customers on Facebook and Instagram.
Data-driven incentives that work .
We analyze your business's niche, competitors, location, etc. to build the perfect incentive that will get clicks.
Effortless Ad Creation in literal seconds
We provide you with the option to take full control of your marketing campaign, with our automated ad creator.
Custom landing page, integrated with your favorite apps
Stiddle takes the information you provide at onboarding and loads it into a landing page tailored-made for your business, with unlimited integration potential.
Track and manage your ad campaigns
the easy way
Simple Analytics, Zero Jargon.
Know your exact ROI when advertising. Stiddle's dashboards was designed with user experience as not just a feature, but a priority. No more marketing gobbledygook, understand what your money is doing.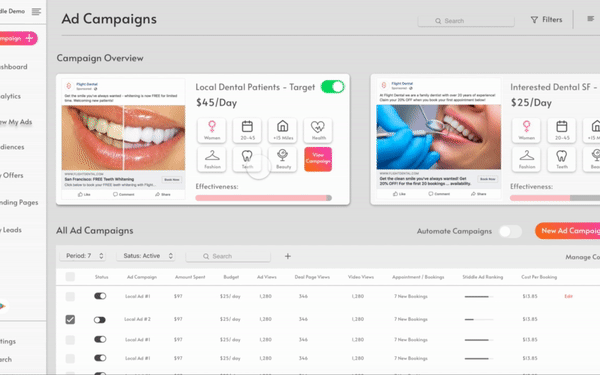 Automate your campaign with the flip of a switch.
Stiddle assigns each ad an effectiveness ranking. Flip a switch and we'll allocate your budget to ads that are working and stop the ones that aren't.
Catch marketing tips on our blog